Premiering on a chilly February evening in 2010 with Ken Loach's fabulous Looking for Eric,Shipley Film Society was the first regular cultural event at a reinvented and reinvigorated Kirkgate Centre in Shipley.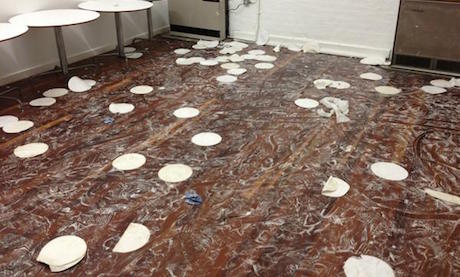 Now part of a vibrant programme at the centre, which includes the likes of the Front Room Disco and Golden Cabinet we'd like to think Shipley Film Society is, in its own small way, part of what makes Shipley a really great place to live.
You can find out more information about all the different groups and events at the Kirkgate Centre Website
Venue
All our films are still shown at the Kirkgate Centre , situated in the centre of Shipley and opposite the town hall. The full address is:
Kirkgate Centre
39a Kirkgate
Shipley
BD18 3EH
A bar is open before films, serving wines, beers and non-alcoholic drinks, and cake.
Are you sitting comfortably?
We love the Kirkgate Centre and we'd especially love to see it re-furbished! Until that happens, it can get a little cool in the winter, so bring along a cushion and blanket if you like!
Bradford Metropolitan Foodbank
We ask everyone who comes to look though your cupboards and bring along some non-perishable food for distribution to those struggling to feed themselves or their family. We really look forward to the day when this is no longer necessary.
Get involved
The film society is run entirely by volunteers. Please drop us line or chat to us after a film if you'd like to get more involved. Membership is simple and free - just join our mailing list!